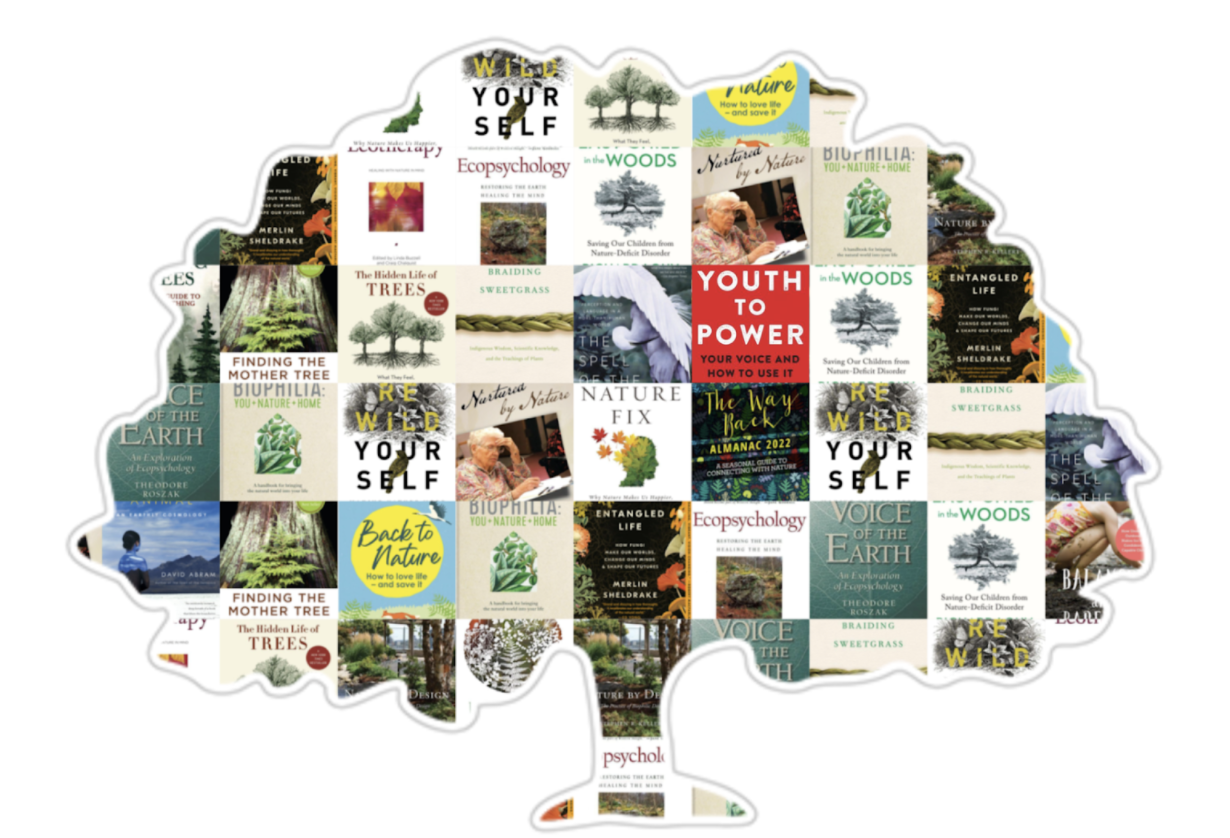 Discover the Books in our Rewild Library
Get inspired with this list of books which have been individually chosen as embodiments of the sentiments behind the ReWild Yourself movement. From renowned bestsellers to lesser-known gems, these books are sure to reignite your curiosity for Nature and set you on a path to make some positive changes with how you relate to her.
Back to Nature: Conversations with the Wild by Chris Packham, Megan McCubbin
One thing has become clear this year – we need nature more than ever. And it needs us too. From our balconies and gardens to our woodlands, national parks and beyond, Back to Nature captures the essence of how we feel about the wildlife outside our windows. Through personal stories, conservation breakthroughs and scientific discoveries, it explores the wonder and the solace of nature, and the ways in which we can connect with it – and protect it.
Becoming Animal: An Earthly Cosmology by David Abram
As the climate veers toward catastrophe, the innumerable losses cascading through the biosphere make vividly evident the need for a metamorphosis in our relation to the living land. For too long we've ignored the wild intelligence of our bodies, taking our primary truths from technologies that hold the living world at a distance. Abram's writing subverts this distance, drawing readers ever closer to their animal senses in order to explore, from within, the elemental kinship between the human body and the breathing Earth.

Biophilia: a handbook for bringing the natural world into your life by Sally Coulthard

American psychologist Edward O. Wilson popularised the term Biophilia – meaning a "love of nature" and a need to connect to the natural world – in the 1980s, after observing how increasing rates of urbanization were leading to people feeling a disconnect from the natural world. We all need biophilia in our lives, and here author Sally Coulthard demonstrates how best to incorporate the fundamentals into everyday life. Examining the branches of a "biophilic home", the ten inspiring chapters incorporate science, psychology and practical deecor advice for making positive and accessible changes in the home or at work.
Braiding Sweetgrass: Indigenous Wisdom, Scientific Knowledge and the Teachings of Plants by Robin Wall Kimmerer
Braiding Sweetgrass is a book to focus the eyes, open the heart and stretch the imagination about our appropriate relationships within the natural world. Hundreds of thousands of readers have turned to Kimmerer's words over the decades since the book's first publication, finding these tender, poetic, and respectful words, rooted in soil and tradition, intended to teach and celebrate. This is a storyteller's book; we do well to listen and take the guidance to heart. As Kimmerer tells us, "We have to put our hands in the earth to make ourselves whole again."
Ecopsychology: Restoring the Earth, Healing the Mind by Allen D. Kanner
This pathfinding collection has become a seminal text for the burgeoning ecopsychology movement, which has brought key new insights to environmentalism and revolutionized modern psychology. Its writers show how the health of the planet is inextricably linked to the psychological health of humanity, individually and collectively. Contributors to this volume include the premier psychotherapists, thinkers, and eco-activists working in this field.
Ecotherapy: Healing with Nature in Mind by Craig Chalquist and Linda Buzzell.
As mental–health professionals find themselves challenged to provide hard evidence that their practices actually work, and as costs for traditional modes of psychotherapy rise rapidly out of sight, this book offers practitioners and interested lay readers alike a spectrum of safe, effective alternative approaches backed by a growing body of research.
Entangled Life by Merlin Sheldrake
In Entangled Life, the brilliant young biologist Merlin Sheldrake shows us the world from a fungal point of view, providing an exhilarating change of perspective. Sheldrake's vivid exploration takes us from yeast to psychedelics, to the fungi that range for miles underground and are the largest organisms on the planet, to those that link plants together in complex networks known as the "Wood Wide Web,"  to those that infiltrate and manipulate insect bodies with devastating precision.
Finding the Mother Tree by Suzanne Simard
In her first book, Simard brings us into her world, the intimate world of the trees, in which she brilliantly illuminates the fascinating and vital truths–that trees are not simply the source of timber or pulp, but are a complicated, interdependent circle of life; that forests are social, cooperative creatures connected through underground networks by which trees communicate their vitality and vulnerabilities with communal lives not that different from our own.
Healing Trees: A Pocket Guide to Forest Bathing by Ben Page
Take a walk in the woods to find yourself. This book is intended as an easy approach to forest bathing, a concept that is now making its way into health and wellness practices. Part spiritual guide and part practitioner's handbook, this accessible, practical, positivity-rich book is designed to be taken on every walk to encourage mindfulness, contentness, and presence in the moment.
The Hidden Life of Trees: What They Feel, How They Communicate – Discoveries from a Secret World by Peter Wohlleben
Are trees social beings? In this international bestseller, forester and author Peter Wohlleben convincingly makes the case that, yes, the forest is a social network. He draws on groundbreaking scientific discoveries to describe how trees are like human families: tree parents live together with their children, communicate with them, support them as they grow, share nutrients with those who are sick or struggling, and even warn each other of impending dangers. Wohlleben also shares his deep love of woods and forests, explaining the amazing processes of life, death, and regeneration he has observed in his woodland.
Last Child in the Woods: Saving Our Children from Nature-Deficit Disorder by Richard Louv
As children's connections to nature diminish and the social, psychological, and spiritual implications become apparent, new research shows that nature can offer powerful therapy for such maladies as depression, obesity, and attention deficit disorder. In Last Child in the Woods, Louv talks with parents, children, teachers, scientists, religious leaders, child-development researchers, and environmentalists who recognize the threat and offer solutions. Louv shows us an alternative future, one in which parents help their kids experience the natural world more deeply—and find the joy of family connectedness in the process.

Losing Eden: Our Fundamental Need for the Natural World and Its Ability to Heal Body and Soul by Lucy Jones
In Losing Eden, Lucy Jones explains why human beings have a powerful and fundamental need—mental, spiritual, and physical—for the natural world, the profound impact this has on our consciousness and ability to heal the soul and bring solace to the heart, and the cutting-edge scientific evidence proving nature as nurturer. Lucy Jones interweaves her deeply personal story of recovery from addiction and depression with that of discovering the natural world and how it aided and enlivened her progress, giving her a renewed sense of belonging and purpose.
The Nation of Plants by Stefano Mancuso
"In his new book, The Nation of Plants, Stefano Mancuso expresses his awe for plants by asking a unique question: What if our Constitution were rewritten by plants? What would be the fundamental laws if the Earth were governed by plants rather than people? Mancuso answers this question by masterfully and thoughtfully linking the stories of people, plants, and plant science. A must-read for anyone who is interested in the historical interactions between people and plants." —Valerie Trouet, author of Tree Story: The History of the World Written in Rings

Nature by Design: The Practice of Biophilic Design by Stephen R. Kellert
Given the pace and scale of construction today with its adversarial, dominative relationship with nature, the integration of nature with the built environment is one of the greatest challenges of our time. In this sweeping examination, Stephen Kellert describes the basic principles, practices, and options for successfully implementing biophilic design. He shows us what is—and isn't—good biophilic design using examples of workplaces, healthcare facilities, schools, commercial centers, religious structures, and hospitality settings.
The Nature Fix. Why Nature Makes us Happier, Healthier and More Creative by Florence Williams
From forest trails in Korea, to islands in Finland, to eucalyptus groves in California, Florence Williams investigates the science behind nature's positive effects on the brain. Delving into brand-new research, she uncovers the powers of the natural world to improve health, promote reflection and innovation, and strengthen our relationships. As our modern lives shift dramatically indoors, these ideas—and the answers they yield—are more urgent than ever.
Nurtured by Nature: Sixty Years of Learning and Loving in the Red River Valley of the North by Alice Bjorklund Gunness
Nurtured by Nature is Alice Bjorklund Gunness' memoir of faith and family. Alice recalls stories of family farm life with Donald, her husband, and their five children, living along the Red River of North Dakota. The stories evolved over sixty years of farm living. Alice's voice is positive. She recounts her childrens adventures, sometimes full of surprises, and tells lifes lessons learned through nature.
Rewild Yourself: Making Nature More Visible in our Lives by Simon Barnes
For those readers who want to get closer to the nature all around them and bring it back into focus within their lives, this book is the ideal companion. We're not just losing the wild world. We're forgetting it. We're no longer noticing it. We've lost the habit of looking and seeing and listening and hearing. But we can make hidden things visible, and this book features numerous spellbinding ways to bring the magic of nature much closer to home.
The Spell of the Sensuous: Perception and Language in a More-Than-Human World by David Abram
For a thousand generations, human beings viewed themselves as part of the wider community of nature, and they carried on active relationships not only with other people with other animals, plants, and natural objects (including mountains, rivers, winds, and weather patterns) that we have only lately come to think of as "inanimate." How, then, did humans come to sever their ancient reciprocity with the natural world? What will it take for us to recover a sustaining relation with the breathing earth?
The Voice of the Earth. An Exploration of Ecopsychology by Theodore Roszak
Drawing on our understanding of the evolutionary, self organizing universe, Roszak illuminates our rootedness in the greater web of life and explores the relationship between our own sanity and the largerthanhuman world. The Voice of the Earth seeks to bridge the centuries-old split between the psychological and the ecological with a paradigm which sees the needs of the planet and the needs of the person as a continuum.
The Way Back Almanac 2022: A contemporary seasonal guide back to nature by Melinda Salisbury
The Way Back Almanac is a modern spin on the traditional almanac, aimed at women who are looking for a way back to nature and to reawaken that sense of belonging in order to improve their own physical, mental and spiritual well being. The traditional almanac is a month-by-month prompt to the beautiful transformations of nature that offer a magical and poetic way to celebrate the year. The Way Back Almanac is a modern twist on the conventional almanac, an accessible and truly contemporary guide back to natural rhythms, designed for those who feel most removed from the old ways and cycles.
Youth to Power: Your Voice and How to Use it
In Youth to Power, Jamie presents the essential guide to changemaking, with advice on writing and pitching op-eds, organizing successful events and peaceful protests, time management as a student activist, utilizing social and traditional media to spread a message, and sustaining long-term action.