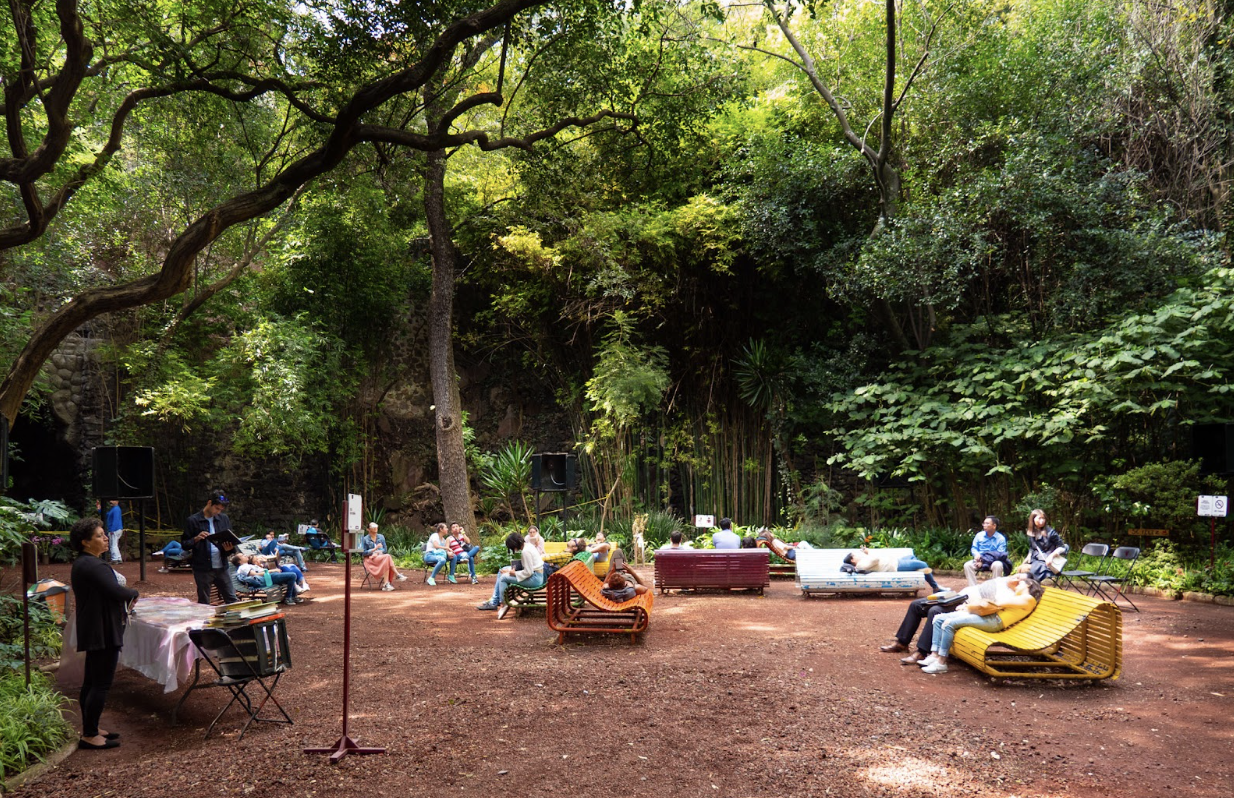 City Nature Guide: Mexico City
One of the most important lessons that has come out of the pandemic is the importance of connecting with nature for our mental wellbeing. There is no doubt that, at the height of lockdown, the moments we were allowed outside for a walk in a park were crucial for getting us through what felt like endless days cooped up inside with our screens. We hope that, now the world is going back to normal, we remember how important it is to take the time to tune into our natural environment.
There has long been a misconception that there is a trade off between urban life and a life with nature, but this isn't the case. We don't have to travel for miles on end or spend a fortune to reconnect with nature, there are places in all of our cities which offer this experience. In a series called City Nature, we will be uncovering the best, most accessible spots to unwind and reconnect with nature, one city at a time. Thus, unless indicated otherwise, every suggestion we list is open to the public completely free of charge.
Once known for being one of the most polluted cities in the world, Mexico City is now recognized for its outstanding natural beauty. Walking through the streets of this bustling and industrious city, you will be taken aback by the amount of greenery you see.
Here is a list of our favorite spots to embrace Nature within the city.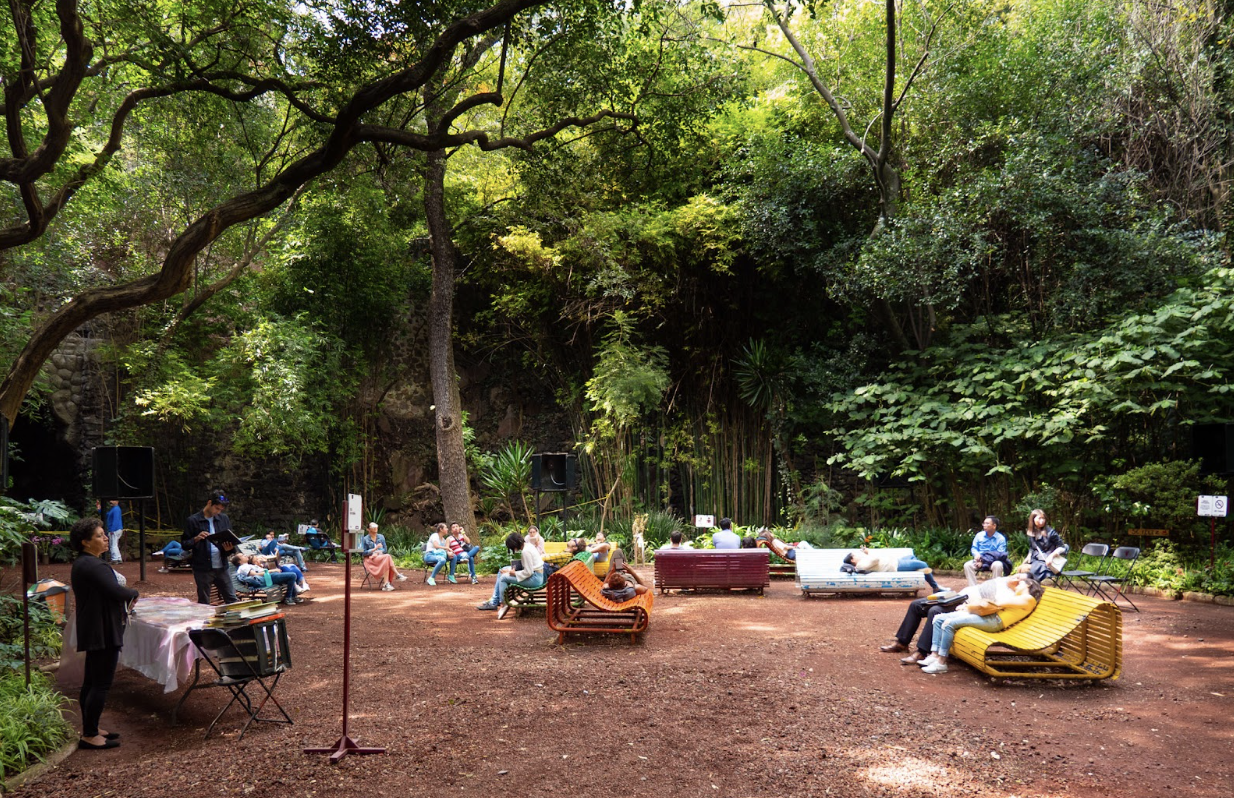 Image of El Audiorama del Bosque de Chapultepec courtesy of Dan DeLuca
1. Parque Lincoln
Located in the heart of Polanco, Mexico City's upscale neighborhood, is the small but stunning Parque Lincoln. A hidden oasis in the city, towering trees surround a spectacular rectangular pond. On the weekend, residents gather there to operate remote control boats, and visitors can even rent them too. Find it here.
2. El Audiorama del Bosque de Chapultepec
Measuring twice the size of Central Park in NYC, El Bosque de Chapultepec is known as "the lungs of Mexico City". Inside you will find the lesser known Audiorama, a sheltered area within the park designed for listening to music or reading. Surrounded by nature, it is an ideal place to relax and unwind from the noise of Mexico City. Find it here.
3. Parque España
Nestled amongst the trees of Mexico City's leafy neighborhood of La Condesa, Parque España is home to a small lake with a bridge, fountains, a children's playground, an outdoor gym, and the "Carlos Fuentes Children and Youth Public Library", which opened in 1955. Find it here.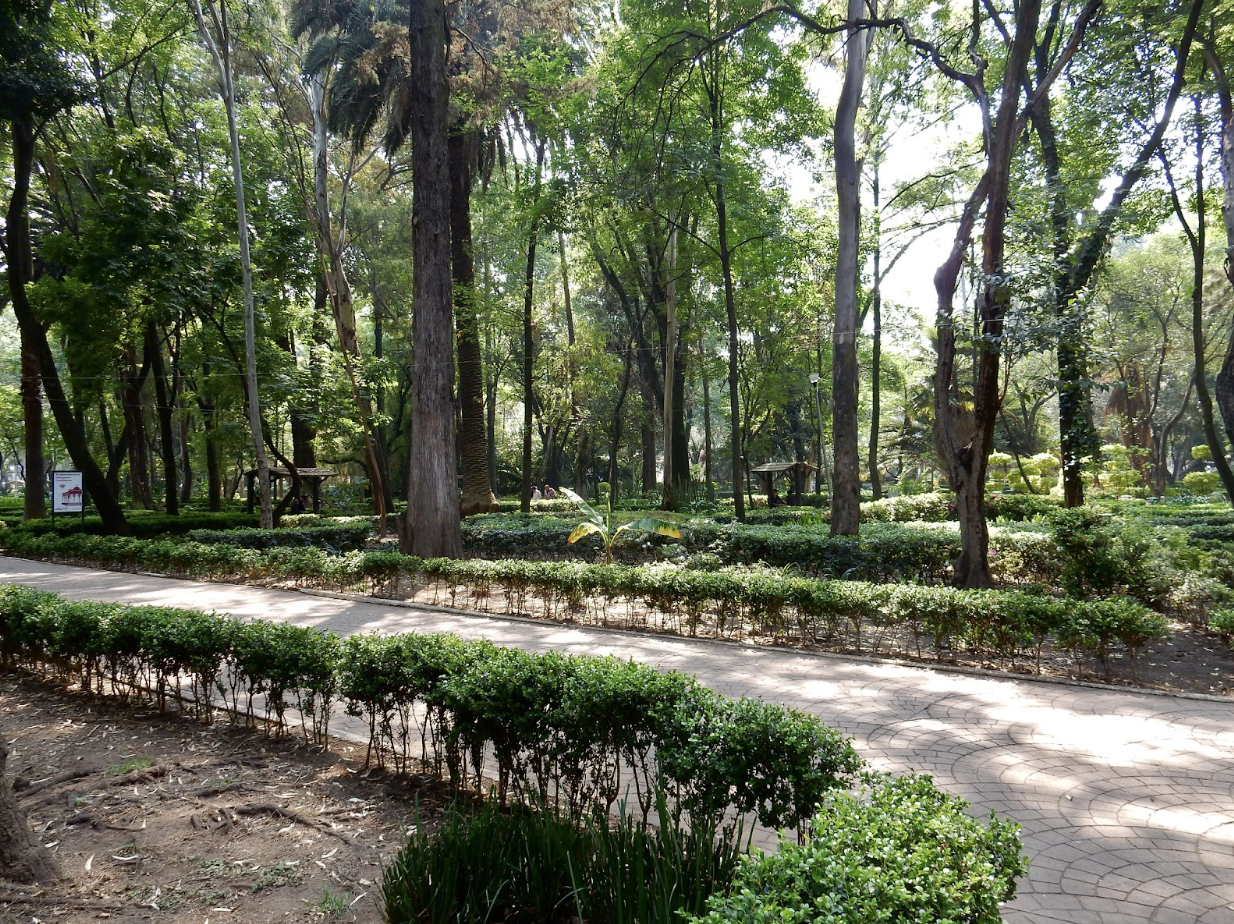 Image of Parque Mexico courtesy of Brett Hodnett
4. Parque México
Down the road in the same part of town is Parque España's slightly bigger and better-known sister, Parque México. Inside you can find people walking, exercising, practicing yoga, play with their children and skating in the huge art-deco "Charles Lindbergh Forum". It also features the best dog recreation area in the city. Find it here.
5. Plaza Luis Cabrera
Tiny and charming, Plaza Luis Cabrera is a hidden gem tucked away in the buzzing and hip area of Roma Norte. With numerous delicious restaurants and coffee shops around this square, it is the perfect place to go to on your lunch break for some respite from the noise and bustle of urban life. Find it here.
6. Plaza Rio de Janeiro
Also in the Roma Norte area just a few blocks away is the famous Plaza Rio de Janeiro, which has served as a meeting place for locals for over a century. A replica of Michelangelo's "David" stands in the center of the square and there are many seating areas shaded by trees. Find it here.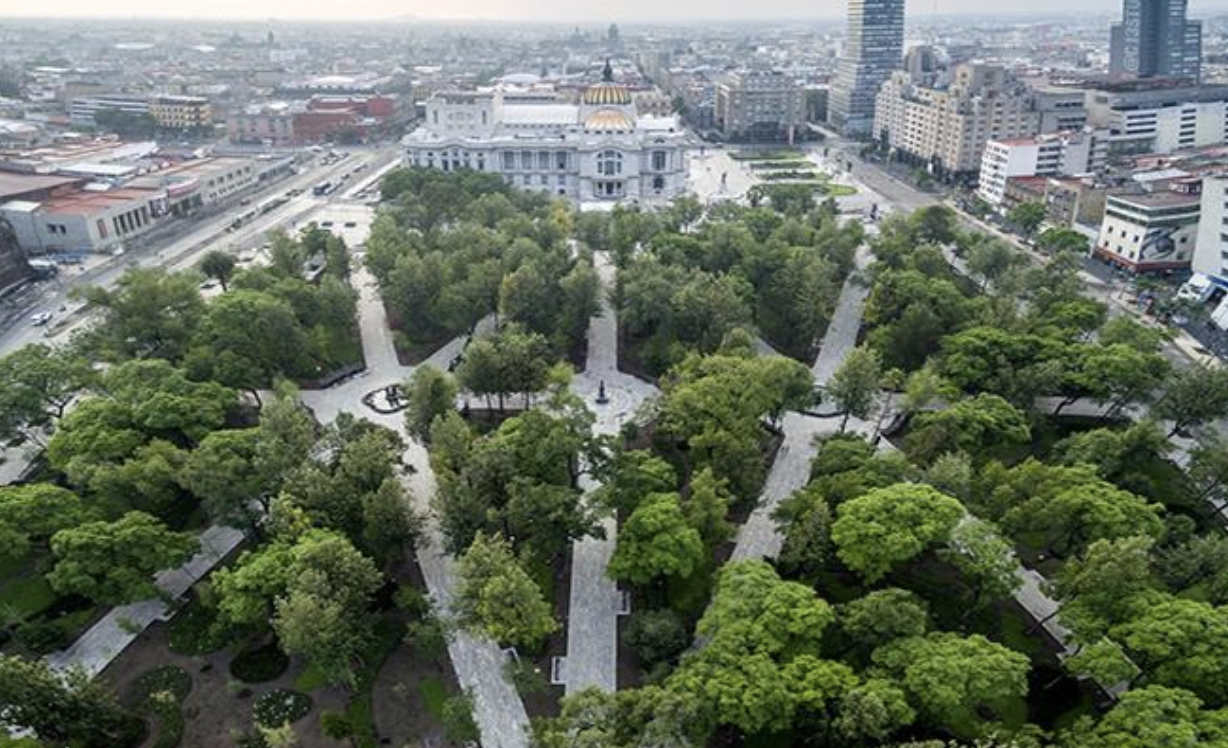 Image of Almadea Central courtesy of centrourbano
7. Alameda Central
Constructed in 1592, Alameda Central is the oldest park in the whole of Latin America with a rich history, located in the historic downtown area. It gets its name from the poplar trees which were planted during its creation. Due to the large artworks that it houses, many people consider it an outdoor museum. Find it here.
8. Parque Hundido
Parque Hundido is another historic park in Mexico City. Although It is found just off the city's biggest avenue "Insurgentes", an unusual setting for a park, Parque Hundido allows locals to get out of the chaos of the city and embrace Nature, whether it is the sound of the birds or the majesty of the trees. Find it here.
9. Parque Lineal de Río Mixcoac
The first of its kind in CDMX, Parque Lineal de Río Mixcoac is an innovative linear park with two functions: one ecological and one recreational. Native trees such as magnolias, ash trees and jacarandas (among others) serve as carbon catchers from the busy road below. Moreover, the picturesque park serves as an ideal recreational space for locals. Find it here.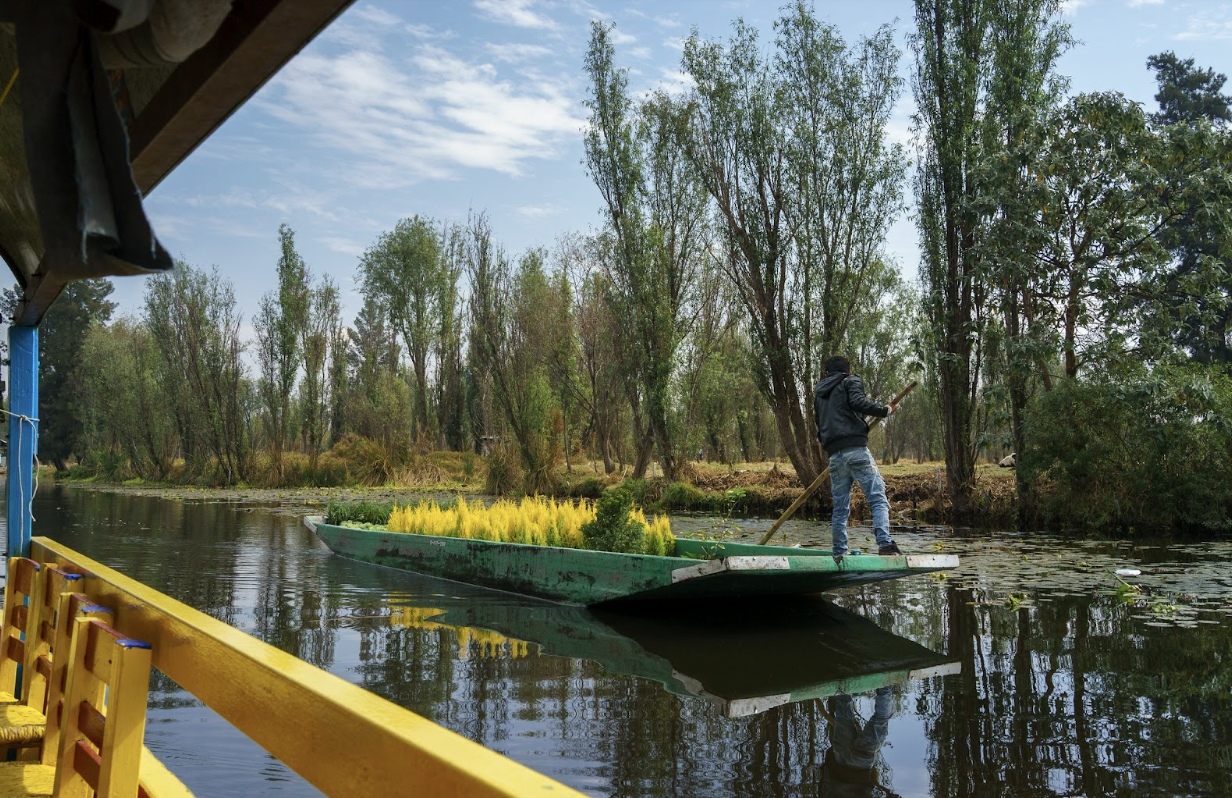 Image of Parque Ecológico de Xochimilco courtesy of pmonaghan
10. Viveros de Coyoacán
Operating dually as a large tree nursery, Viveros de Coyoacán produces plants and trees to reforest the entire metropolitan area of ​​Mexico City. It also serves as a delightful public park for residents in the Coyoacán area. Find it here. The plant market can be found on Avenida México between entrances 3 and 4.
11. Parque Ecológico de Xochimilco
To the south of the city you will find Parque Ecológico de Xochimilco, a haven for plants and wildlife. Great as a group activity, it is definitely worth the trip down for the day to cruise along the canals in the iconic "Trajineras" and take in the beautiful scenery. Find it here.
12. Parque La Mexicana
Parque La Mexicana is an open green space located in Santa Fe, one of Mexico City's busiest business districts. Completed in 2017, it hosts 100,000 square meters of forest area, 60,000 square meters of grassland, an open-air theater, sporting courts, an artificial lake, a dog garden, a skatepark and a restaurant area. Find it here.
13. Desierto de los Leones
Home to a 17th century convent and located just outside of Mexico City, the national park Desierto de los Leones is the perfect place to head to for a scenic hike or picnic. What's more every weekend its more than 1,500 hectares are filled with cultural and artistic events, sports competitions, popular Mexican food and other celebrations. Find it here.